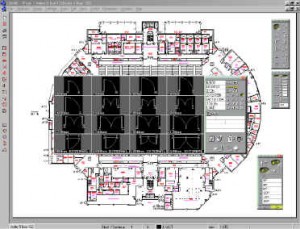 CAD4U has many loyal users including those who have progressed from RoboCAD and CAD4U for DOS … without having to abandon their considerable investment in time and money just to make the move to a Windows operating system. CAD4U offers greatly enhanced functionality within an instantly recognisable environment with the added advantage of being able to access all existing drawings.
We take great pride in our history of providing CAD4U as the affordable Computer Aided Design system of choice to a wide user base with a great diversity of applications, from individual business professionals through to blue chip companies, local authorities and government bodies.
CAD4U offers a host of features to take advantage of the Windows operating system, giving users total desktop integration of drawings into all your favourite Windows® applications. CAD4U has long been recognised as one of the most intuitive and functional Computer Aided Design products available, so if you are thinking of upgrading from RoboCAD®, original CAD4U for DOS, or looking for new CAD software with superior performance, then CAD4U  is the answer.
Intuitive and easy to learn

Fast 'context sensitive' GUI – less searching for functionality

Unique graphical drawing Library for fast access, inserting and positioning of components, sub-assemblies, modules & symbols.

Easy to re-use drawings in other applications e.g. WP, DTP

Powerful and ergonomic
CAD4U software is available in two levels of functionality –  CAD4U and the 'lite' version … CAD4U-XS. Below is a guide to the major functionality differences between the two products … it is NOT a FULL feature list.
FEATURE

CAD4U

CAD4U

-XS

Supported Operating Systems & Major capabilities:
– Windows 10, 8.x, 7 (32 & 64 bit).
– Drawing, editing, annotation, associative dimensioning, hatch and colour fill functionality.
– Unique fully integrated graphical 'Library' filing system.


– Integrated import and export of ubiquitous DXF, DWG, HPGL & PDF formats.

 

Yes

 Yes

CAD4U Single User Version:
– 20 day full evaluation.
– After which an unlimited license requires Activation.

 

Yes

 

Yes

CAD4U Network Version:
– Available for 5 CAD4U workstations or more.
– Requires customer specific CAD4U Network Login Module.

Yes

No

Drawing Pages (windows) excluding Scratchpad

Max 16

Max 2

Drawing Layers

1000

10

No. of Index Pages per library (max. 256 drawings per Page)

59999

99

Specific Features:

– Print Zoomview (unscaled printout of current view)
– Close Gaps (auto close of small gaps between elements)
– User Defined Line Styles (UDLS)
– User hatch
– Extraction of attributes for parts listing & analysis
– Stretch Move & Copy
– Datasort
– Implode & Group Export
– Save &  Load Zoom
– View Options
– Datasnap
– Path selection (in group editing)
– Vector plotting using legacy PLT plotter drivers for HPGL & HPGL2 plotting & file creation.

 

Yes

  

No
C-TECHNIK Software GmbH reserve the right to change or amend specifications without prior notice. All trademarks acknowledged.